Sunday 27th January
The 2019 Taumarunui New World Heaps Golf Classic saw 116 players assemble from 15 clubs around the North Island to compete in perfect conditions and produce some SIZZLING results. Thirty nine stablefords or better were needed for even a sniff at the $6,500 prize table. Local Erik Lei, playing off a 16 handicap returned a blistering nett 59 to take the best nett. Turangi's Chris Turner, on a nine handicap, played 69 – two under par, to win best gross. Two locals took out the top mens and womens stableford; Carol Plowman with 45 and Greg Simpson 44. Forty nine players out of the 116 had 39 points or better. Other good scores included Lance Tibby (Taumarunui) 43, Christine Edkins (Taumarunui) 43, Christina Jilesen (Taumarunui) 42, Paul Dowie (Taumarunui) 42, Neville Keys (Waiuku) 42, Matt Short (Omokoroa) 42, Duane Dixon (Waimarino) 42, Robert Edmonds (Waimarino) 42.
Erik Lei – best nett player of the tournament had the trophy presented by Sue Jordan.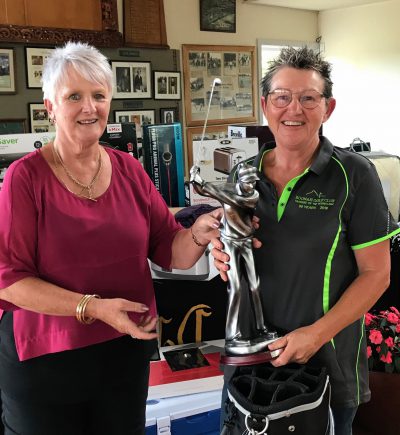 Carol Plowman (Taumarunui) won best Ladies Stableford with 45, presented by Sue Jordan.
Heaps committee member Sue Jordan presents Chris Turner (Turangi) with Best Gross Cup for his 69.
A portion of the Heaps prize table.
Local Greg Simpson took out the Mens Stableford prize with 44.
Some of the early finishers relax on the deck.