Mixed – Sunday 4th April 2021
Being a long weekend, there was smaller field present for the Kamaru Rosebowl on Sunday. The winners were John Rautenbach and Sue Jordan with 41 and 32 stableford points respectively. John's score was a standout on an otherwise pretty average scoring day, unusual given the wonderful conditions on the course. The Kamaru trophy, for the top scoring lady and gentleman, has been contested for around 60 years.
Ladies – Wednesday 31st March 2021
Today was not only an LGU competition but also the only day for golfers to qualify for the National Teams Event. There was a reasonable turn out in dull cloudy weather which immediately turned to rain at assembly time. Some who had come sat around uncertain whether they would play, but there was a good number determined to continue who suited themselves up like warriors in waterproof cladding for them and their equipment only to have the rain stop in time for the board to come out with the playing order and all 26 ladies willing to give it a go. The first few holes were spent stripping off. The fear of possible heavy rain and thunder predicted by the Met Office, assisted by some good play, had the players keeping a cracking pace getting in for lunch earlier than usual.
The winners of the day's haggle were; Jenny Braithwaite (69), Evelyn Heale and Anne Hawkins (72), Jane Fraser, Liz Hodgson and Jill Burton (73), Sue Ferguson and Chris Jilesen (74). Congratulation to Glenda Street for a two on the 4th hole.
Winners of the entry to the National Team Event who will represent the club on Friday 7th May were Evelyn Heale, Anne Hawkins, Jane Fraser and Liz Hodgeson.
Also running each week is a new competition called the Swindle. Those who participate have to have at least two stableford points on every hole to win but once the kitty gets to the target amount, which it did this week, it has to be won. No-one won it outright but Jenny Braithwaite had the best card to win the Swindle which, considering she had to make more than a couple of recoveries having tangled with some trees or just had a lapse, showed a great deal of determination and the ability to hit some wonderful fairway shots. I feel as her agent I should be in for a percentage.
(Contributed by Marion Johnston)
Ladies – Wednesday 24th March 2021
A big field of 43 ladies turned up in the fog to play the first round of the Captain's Trophy, which is a nett competition, so if you want to be among the prizes, you cannot pick up your ball if you are playing badly. After a cool start, the fog lifted pretty quickly to reveal a lovely warm day with very little wind. It was almost too hot and lots of umbrellas were being used as sun umbrellas to keep people out of the sun. The scoring was pretty hot as well, with three ladies scoring nett 67. Merle Munro won on a count back from Chris Edkins and Jose Heale. Anne-Maree Harland was next on 68, then Glenda Street, also on 68. Wallis Jones had 69 and Sue Virtue and Glenys Wheeler followed on 70. Daphne Ferguson, Linda Smith and Sue Jordan had 71; Imelda Woolston and Roseanne Parkes were next on 72 and Chris Jilesen, Margaret Nelson and Vicky Kimberley all had 73. With all the sunny, dry weather, there is lots of run on the golf course, which sometimes does not help the scoring, when the ball races past the green or into a greenside bunker! Three ladies managed to score twos: Cara O'Donnell and Sarah Leilua on the 4th hole and Chris Edkins on the 17th. The swindle was not struck.
A small group of nine-hole players competed in a stableford competition, with Rosie Buckland coming out the winner with 22 points, closely followed by Judy Fox on 20, on a count back from Jeanne Gomas.
On Friday the 19th March, the first round of the annual Wills Cup was played at Taumarunui Golf Course. This is a South Waikato interclub competition with teams from Pirongia, Waitomo, Piopio Aria, Te Awamutu, Stewart Alexander and Taumarunui competing. We were supposed to host this round last year at this time, but Covid got in the way and the whole competition was cancelled for the year. This time the event went smoothly and a big thank you to Harriet Byelich, Chris Jilesen and Margaret Nelson for producing a delicious spread in the kitchen. All the teams enjoyed their morning tea then went off to do battle.
Pirongia finished 4 points ahead of us, so well done to the Taumarunui team. Thanks also to Barbara Corney for doing the cards and results and Sue Ferguson for organising the carts and the bar. The visitors were very complimentary of our lovely course and we hope to see them back for our Triple T tournament in early May.
(Contributed by Sue Rennie)
Ladies – Wednesday 17th March 2021
Resplendent in bits of bright green clothing for St Patrick's Day, plus the odd red sock to help win the Americas Cup, the women golfers gathered to play on another beautiful blue sky day. Winner of the best dressed golfer was Margaret Nelson. The eighteen holers competed in the first round of the Stableford Trophy and the haggle winners for the day were Sue Ferguson (70), Anne Hawkins (72), Barbara Taylor, Vicki Kimberley, Merle Munro, Chris Edkins and Carol Plowman (73), Roseanne Parkes (74), Chris Jileson, Sheryl Fraser and Dianne Cameron (75), Ann Percy, Sue Virtue, and Margaret Nelson (76), Barbara Corney (77). Congratulations to the two ladies who took only two shots to complete a hole; Elaine Couper on the fourth and Karen Kingan on the seventeenth.
The nine holers, who came home a lot fresher than some who were in the heat for longer, played Bogey. The equal winners were Robyn Faire and Wendy Grierson.
The term Bogey was first coined in Great Yarmouth, England. In 1890 the idea was conceived of standardising the number of shots at each hole that a good golfer should take and called the 'ground score.' This style of competition was introduced for use in match play. During one competition someone exclaimed that, "This player of yours is a regular Bogey man", a reference to the subject of an Edwardian music hall song "Hush! Hush! Hush! Here Comes the Bogey Man", which was popular at that time. So at Yarmouth and elsewhere the ground score became known as the bogey score.
(Contributed by Marion Johnston)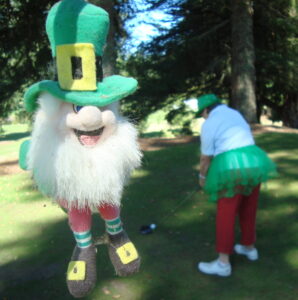 Ladies – Wednesday 10th March 2021
A large field of 34 ladies turned up to compete in the first round of the stableford competition. It was great to see some new faces and an old one returning to golf after a few years away. It was a lovely calm but overcast day and the rain held off till most people had completed their rounds. Harriet Byelich was the winner with an impressive 42 points, followed by Ann Percy on 39 and Anne Hawkins on 38. Next were Sue Jordan and Lynne Bacon on 37. Daphne Ferguson, Pauline Mason and Joanne Begg all had 36 points, followed by Anne Maree Harland and Wallis Jones on 35 and Jane Fraser on 34. There were 2 twos today: Joanne Begg on the 4th and Anne Hawkins on the 17th.
In the nine hole ladies stableford competition, Robyn Faire came out on top and Eileen Kay was second. Robyn managed to have a birdie on the par 5 3rd hole, which is not unusual, but her scoring 6 points for that birdie is. Usually you score 3, 4 or 5 points for a birdie, not 6. That is an excellent score and would have made her scorecard look better very quickly.
A big thank you to Harriet for organising Michael Dixon from the Referees Association at Waikato Golf to come down to Taumarunui to run a session on the new rules that were introduced last year. A small group of golfers turned up and found the session very informative and clarified quite a few areas where there was confusion.
(Contributed by Sue Rennie)
Ladies – Wednesday 3rd March 2021
It was goodbye to Summer golf and hello to the 2021 season of women's golf which started with openind day. Opening and closing days tend to be more social than serious in order that the women who play eighteen and nine holes can mix and mingle; so the competition for the day was Ambrose meaning four people play as a team with everyone hitting their ball from where the best shot landed. Six teams played off the first tee and five teams from the ninth making a total field of forty four players. The winning teams starting on the first tee were, first, Anne Hawkins, Harriet Byelich, Margaret Nelson and Ann Hay, and second, Chris Edkins, Ann Percy, Sara Porrit and Eileen Kay. The winning teams who started on the ninth tee were, first, with the highest score of the day, Jane Brown, Merle Munro, Brooke Ruwhiu, Vicki Kimberley, and second, Joanne Begg, Imelda Woolston, Pauline Mason, and Jenny Braithwaite. One golfer was very delighted when being the last of the group to putt she managed to get the ball in the hole. Jubilant she proceeded to the next tee where she discovered, when it was her turn to drive, that she had been too excited to remember to retrieve her ball from the hole.
Summer season winners from the small group who braved the hot sun to play informally on a Wednesday were Paulo Bhullar, Sue Virtue, and Glenys Wheeler (eighteen holes) and Judy Fox (9 holes). Jenny Braithwaite won the ladies division of the Sunday Summer Cup series.
(Contributed by Marion Johnston)
Heaps Tournament – Sunday 31st January 2021
Always a great annual summer tournament, "the Heaps" as it's affectionately known, attracted 150 players from 19 clubs. Of course it wouldn't be the Heaps Tournament without heaps of prizes, $7000 worth in fact, plus heaps of food and heaps of fun. A lot of laughter was heard around the course as players enjoyed themselves and each others company and the clubhouse was absolutely buzzing afterwards. The large contingent from Waiuku took us into the evening with their talented guitarist and lyrical repertoire. Trophies were awarded to Paikea Waller (Taumarunui) for best nett over field – 63, Pieta Gilbert (Waimarino) ladies best stableford – 42, John Sneddon (Taumarunui) men's best stableford – 42 and Jason Simpson (Taumarunui) best gross over field – 70. Congratulations to all the trophy winers and prize winners.
(L to R) Paikea Waller, Jason Simpson, Pieta Gilbert and John Sneddon
A partial view of the impressive prize table