Men – King Country Matchplay Championship 5th – 7th June 2021
Ninety-six golfers played Saturday's qualifying round in order to find their positions within the six divisions and continue with match play over the following two days. The tournament continues in popularity with a full field plus waiting list. The course was in fabulous condition although some found the fast greens challenging. It was pleasing to note five players under the age of 15 this year.
Allen Forrest from Porangahau was presented with lifetime free entry into this tournament by Club President Erik Lei in recognition of his 38 years of attendance.
Playing off a +2 handicap young Robby Turnbull of Remuera came in with 69 off the stick, etching his name on the Rodger Bartlett Memorial Trophy for qualifying with Best Gross. Taumarunui's Fergus Leech took the John Doogue Memorial Cup for the Best Net of 67. Moving into match play, Fergus, playing in the Tarrangower (Calcutta) Division won the East Cup from regular player Jonathan Tohill of South Head.
Cameron Emett from Whitford Park played off a +5 for the tournament and in the Championship Division finished 18 holes of the final against Robby Turnbull all square. The two returned twice more to play the 18th in front of an appreciative gallery with Cameron finally taking out the Championship. Cameron successfully defended his championship title, having also won in 2019. The tournament wasn't played in 2020 due to Covid restrictions.
Divisional winners:
King Country Open Champion – Cameron Emett (Whitford Park); runner-up Robby Turnbull (Remuera)
Tarrangower – Fergus Leech (Taumarunui); runner-up Jonathan Tohill (South Head)
Ruapehu – Marshall Guy (Taumarunui); runner-up Gary Shakespeare (Windross Farm)
Ngauruhoe – Dean Sinkinson (Kinloch); runner-up Greg McGlynn (North Shore)
Tongariro – Joe Heale (Taumarunui); runner-up Darren Rule (Te Puke)
Piriaka – Glenn Solomann (Whitford Park); runner-up Bruce Watkinson (Cambridge)
Ladies – Wednesday 2nd June 2021
Frost and fog delayed play for an hour then the finalists in the Matchplay Championship teed off at 9.30, and as they had to play 36 holes to find the winner, it was going to be a long day.
Results of our Matchplay Championships as follows:
Silver: Winner – Liz Hodgson, runner-up – Freda Drake
Bronze 1: Winner – Harriet Byelich, runner-up – Sue Ferguson
Bronze 1 Plate: Winner – Elaine Couper, runner-up – Sara Porritt
Bronze 2: Winner – Linda Smith, runner-up – Barbara Corney
Congratulations to the winners, and also to the runners-up for getting to the finals and giving it a good go. Thank you to everyone who was able to participate in this event. The more people who take the field, the more interesting it becomes.
Next week we have the final of the Veterans Matchplay between Sue Virtue and Jenny Braithwaite and the final of the 9 Hole Matchplay between Eileen Kaye and Rosie Buckland. Good luck to those finalists.
A smaller group of 19 ladies, who were not in the Matchplay finals, played a stableford haggle. Robyn Gower came out on top with a wonderful 39 points and Anne Maree Harland was 2nd on 37. Marion Johnston was 3rd on 35. Two ladies scored twos. Jenny Allen scored hers on the 7th hole and Chris Edkins scored hers on the 12th hole. Well done.
(Contributed by Sue Rennie)
Ladies – Wednesday 26th May 2021
Sunrise revealed a massive frost, which meant players could not play until after 10.30am in order to protect the greens and fairways. Those players involved in Matchplay competition were unable to play two rounds. This affected 28 ladies playing quarter or semi-finals. Remaining rounds are to be played before next Wednesday. Good luck to all the finalists next week.
There were also 18 ladies who played a Stableford haggle and once again the winner was Daphne Ferguson with 39 points, on a count back from Jane Fraser also on 39. Third was Brooke Ruwhiu on 37, followed by Dianne Cameron with 36, on a count back from Jane Brown.
The nine hole ladies were also involved in Matchplay.
Congratulations to Chris Edkins, who won the Best Gross over two days at the inaugural Waimarino 4 Tees Tournament. On the first day blue and red tees were played, on the second day, white and yellow tees. She is now towing a brand new waterproof Taylormade bag! Awesome golf, Chris.
Our Pennants team had a cracker of a day on Monday at Waitomo, winning the day by a good margin, moving us up the board to 6th place, which is in contention to get a spot in the finals. Well done Karyn Prestage, Karen Kingan, Joanne Begg and Roseanne Parkes! Their next round is at Piopio Aria, on 14th June.
A reminder to ladies that once the Matchplay finals are over, we will move to winter hours, assembling at 10am each week for a 10.30am tee off.
(Contributed by Sue Rennie)
Ladies – Wednesday 19th May 2021
Today was the first round of the Club Matchplay Championship with ladies competing across four divisions, depending on their handicap: Silver, Bronze 1, Bronze 2 and Veterans. Some lucky golfers had a bye in the first round while others played their first matches. The nine hole ladies also completed their first round of matchplay games.
Those not participating in matchplay played a stableford round. The winner of the haggle was Daphne Ferguson with an amazing 42 points. Daphne also scored the only two of the day, on the 17th hole. Great golf, Daphne. Second was Barbara Taylor with 37 points, then Glenda Wright with 34, followed by Liz Hodgson on 33. Jenny Braithwaite was next on 32, on a count back from Jane Brown, and Harriet Byelich on 31.
The final of an extra day competition, the MacKnight Cup, was played recently and Harriet Byelich was the winner with Wallis Jones the runner up.
Ladies – Wednesday 12th May 2021
Following the previous two hectic tournament days we had a relaxed fun team competition today with the 27 ladies put into teams of 3 or 4. On each hole you added up the best 3 stableford scores and recorded the result and these were added together at the end to get your team score.
The winning team with a stableford score of 112 was Karyn Prestage, Robyn Gower, Elaine Couper and Jane Brown, on a count back from Anne Hawkins, Joanne Begg, Jenny Braithwaite and Thelma Horsfall who also had 112.
Daphne Ferguson had a two on the 7th hole.
The nine-hole ladies had a bogie competition and Eileen Kay came out the winner with Ann Hay 2nd.
(Contributed by Sue Rennie)
Ladies – Triple T Tournament – Monday 10th & Tuesday 11th May 2021
Seventy six ladies turned up to play in our Property Brokers Triple T tournament, with 56 golfers from outside the district and 20 local golfers. The visitors were very complimentary about our wonderful course, with its lovely autumn colours, and the favourable weather. A big thank you to all our wonderful sponsors: Gorjis, Mitre 10, Home Spot, Mike Wood Livestock, Farmlands, Buy the Gram, Unichem Pharmacy, Zarz Café, Blue Hill Café, Copper Tree Café, Bailey Ingham Accountants, Paper Plus and our major sponsor, Taumarunui Property Brokers.
Results: Division 1 – Best Gross: Robyn Pellow (Ngaruawahia) 150; Best Nett: Sian Stevenson (Cambridge) 148; Best Stableford: Lesley Leary (Rangatira) 66. Division 2 – Best Gross: Marilyn Harrison (Cambridge) 176; Best Nett: Susan Mustard (Waihi) 142; Best Stableford: Phillipa Harvey (Waihi) 74. Division 3 – Best Gross: Barbara Boaza (Walton) 202; Best Nett: Chris Jilesen (Taumarunui) 147; Best Stableford: Robyn Gower (Taumarunui) 73.
Best stablefords over the rest of the field: Melanie Walsh (Rangatira) 72, Sue Alcock (Piopio) 69, Karyn Prestage (Taumarunui) 68, Pauline Mills (Taumarunui) 67, Christine Millward (Omokoroa) 67, Ruth Rainey (Rangatira) 67, Imelda Woolston (Taumarunui) 66, Ann Needham (Walton) 66, Linley Wallace (Cambridge) 66, Chrissie Courtman (Hamilton) 66, Carol Mahon (Walton) 66 and Liz Hodgson (Taumarunui) 65.
Best team over 2 days: P Harvey, S Mustard, N Gerbich and R Kirby with 211 stableford points. Runners up: L Hodgson, R Parkes, K Prestage and R Gower from Taumarunui only one point behind on 210.
Finally, a big thank you to the committee members and all the other helpers who made the tournament such a success. It was a great team effort. This new tournament continues to gather moment and many of the visitors reported they would be back next year bringing others with them.
(Contributed by Sue Rennie)
Ladies – Wednesday 5th May 2021
The 36 hole Eclectic Cup was the competition of the day this week, with players doing two rounds and choosing the best sore on each hole from either round, and converting that back to one round of best nett. It may sound confusing, but this competition has been going since at least 1945 with the original cup being donated by Mrs Helen Bray.
The winner on the day was Cara O'Donnell with an eclectic nett 60. Karyn Prestage was second with 62. Karyn's score was helped along by an amazing eagle on the 6th – she had a two on this par 4.
Robyn Gower and Wallis Jones both had 65; Daphne Ferguson, Linda Smith, Merle Munro, Chris Edkins, Jill Burton and Imelda Woolston all had 67. Chris Edkins had a two on the 4th.
A handful of players had an 18 hole stableford haggle with Sue Ferguson on 39 and Ann Percy runner-up on 35. Jenny Braithwaite had a two on the 4th.
A good number of nine-holers took to the field, with the haggle being won by Wendy Grierson, and runner-up was Ann Hay.
There are two rounds of LGU results previously unreported: On March 31 – Silver Division, Evelyn Heale; Bronze 1, Anne Hawkins; Bronze 2, Jenny Braithwaite; Bronze 3, Margaret Steedman. On April 28 – Silver Division, Evelyn Heale; Bronze 1, Dianne Cameron; Bronze 2, Karyn Prestage; Bronze 3, Margaret Steedman.
(Contributed by Anne Hawkins)
Ladies – Wednesday 28th April 2021
Thirty three ladies turn up to play the second round of the LGU competition. This is a nett competition played over eight rounds during the season. The winner of the haggle was Dianne Cameron with a nett 72, followed by Evelyn Heale on 73, on a count back from Anne Hawkins and Karyn Prestage. Karen Kingan had 74 with Margaret Steedman, Linda Smith, Chris Edkins and Wallis Jones all on 75. Elaine Couper and Jane Fraser had 76 and Robyn Gower had a nett 77. Chris Edkins was the only player to record a two and it was on the 12th hole.
The nine hole ladies had a putting competition and Ann Hay was the winner.
On Friday our Wills Cup team of Roseanne Parkes, Anne Hawkins, Jill Burton, Merle Munro, Karen Kingan and Julie Owen played the Te Awamutu team at the Stewart Alexander course and were beaten by only 6 points. Julie Owen had the best score over the whole field with 25, and Karen Kingan was second on 23 – awesome effort ladies!
(Contributed by Sue Rennie)
Ladies – Wednesday 21st April 2021
The day's haggle was a new one for the 32 ladies who turned up to play golf. Everyone was put into groups of three or four. Once at the green, the ball closest to the pin received three points, the next closest two points and the next one point. If you were in a group of four, the furtherest player received no points.
The winner of the Closest to the Pin competition was Sheryl Fraser with an amazing 45 points. Second was Barbara Taylor on 42 followed by Anne Hawkins on 41 points. Robyn Gower was next on 39, on a count back from Jane Brown, Merle Munro, Sue Rennie, Joanne Begg, Sara Porritt and Dianne Cameron. Liz Hodgson had 38 points as did Thelma Horsfall.
The round also counted as a nett round, and Pauline Mason was the best with a wonderful 69 nett, followed by Wallis Jones on 70. Joanne Begg, Linda Smith and Anne Hawkins all had nett 71 and Karyn Prestage had a nett 72.
Sue Rennie was the winner of the lucky number draw.
(Contributed by Sue Rennie)
Mixed – Sunday 18th April 2021
Harriet Byelich partnered with grandson Fergus Leech to win the Parent and Child day scoring 68 stableford points. A number of Sunday hagglers in the field impersonating as parent/child combos didn't pass a DNA test. It was a super day to be out on the course, especially for those genuine parent/child pairs. The course is looking stunning as it begins to show off its autumn colours.
Ladies – Wednesday 14th April 2021
Last week a smaller field of 21 ladies turned up in showery conditions to play. The competition was putting, with the goal being to have as few putts as possible. Although there were lots of puddles on the course, the greens were good, but not as fast as in previous weeks. Summer golf conditions, of lots of run, appears to be at an end with the softer fairways.
The winner of the haggle was Sue Rennie with 31 putts, followed by a group on 32, with Marion Johnston the best on a count back from Harriet Byelich, Ann Percy, Evelyn Heale and Annie Carmichael. Linda Smith was the only player to record a 2, and it was on the 4th hole. Robyn Gower was the winner of the lucky number draw. There were no 9 hole players on the day. (Contributed by Sue Rennie)
Mixed – Sunday 4th April 2021
Being a long weekend, there was smaller field present for the Kamaru Rosebowl on Sunday. The winners were John Rautenbach and Sue Jordan with 41 and 32 stableford points respectively. John's score was a standout on an otherwise pretty average scoring day, unusual given the wonderful conditions on the course. The Kamaru trophy, for the top scoring lady and gentleman, has been contested for around 60 years.
Ladies – Wednesday 31st March 2021
Today was not only an LGU competition but also the only day for golfers to qualify for the National Teams Event. There was a reasonable turn out in dull cloudy weather which immediately turned to rain at assembly time. Some who had come sat around uncertain whether they would play, but there was a good number determined to continue who suited themselves up like warriors in waterproof cladding for them and their equipment only to have the rain stop in time for the board to come out with the playing order and all 26 ladies willing to give it a go. The first few holes were spent stripping off. The fear of possible heavy rain and thunder predicted by the Met Office, assisted by some good play, had the players keeping a cracking pace getting in for lunch earlier than usual.
The winners of the day's haggle were; Jenny Braithwaite (69), Evelyn Heale and Anne Hawkins (72), Jane Fraser, Liz Hodgson and Jill Burton (73), Sue Ferguson and Chris Jilesen (74). Congratulation to Glenda Street for a two on the 4th hole.
Winners of the entry to the National Team Event who will represent the club on Friday 7th May were Evelyn Heale, Anne Hawkins, Jane Fraser and Liz Hodgeson.
Also running each week is a new competition called the Swindle. Those who participate have to have at least two stableford points on every hole to win but once the kitty gets to the target amount, which it did this week, it has to be won. No-one won it outright but Jenny Braithwaite had the best card to win the Swindle which, considering she had to make more than a couple of recoveries having tangled with some trees or just had a lapse, showed a great deal of determination and the ability to hit some wonderful fairway shots. I feel as her agent I should be in for a percentage.
(Contributed by Marion Johnston)
Ladies – Wednesday 24th March 2021
A big field of 43 ladies turned up in the fog to play the first round of the Captain's Trophy, which is a nett competition, so if you want to be among the prizes, you cannot pick up your ball if you are playing badly. After a cool start, the fog lifted pretty quickly to reveal a lovely warm day with very little wind. It was almost too hot and lots of umbrellas were being used as sun umbrellas to keep people out of the sun. The scoring was pretty hot as well, with three ladies scoring nett 67. Merle Munro won on a count back from Chris Edkins and Jose Heale. Anne-Maree Harland was next on 68, then Glenda Street, also on 68. Wallis Jones had 69 and Sue Virtue and Glenys Wheeler followed on 70. Daphne Ferguson, Linda Smith and Sue Jordan had 71; Imelda Woolston and Roseanne Parkes were next on 72 and Chris Jilesen, Margaret Nelson and Vicky Kimberley all had 73. With all the sunny, dry weather, there is lots of run on the golf course, which sometimes does not help the scoring, when the ball races past the green or into a greenside bunker! Three ladies managed to score twos: Cara O'Donnell and Sarah Leilua on the 4th hole and Chris Edkins on the 17th. The swindle was not struck.
A small group of nine-hole players competed in a stableford competition, with Rosie Buckland coming out the winner with 22 points, closely followed by Judy Fox on 20, on a count back from Jeanne Gomas.
On Friday the 19th March, the first round of the annual Wills Cup was played at Taumarunui Golf Course. This is a South Waikato interclub competition with teams from Pirongia, Waitomo, Piopio Aria, Te Awamutu, Stewart Alexander and Taumarunui competing. We were supposed to host this round last year at this time, but Covid got in the way and the whole competition was cancelled for the year. This time the event went smoothly and a big thank you to Harriet Byelich, Chris Jilesen and Margaret Nelson for producing a delicious spread in the kitchen. All the teams enjoyed their morning tea then went off to do battle.
Pirongia finished 4 points ahead of us, so well done to the Taumarunui team. Thanks also to Barbara Corney for doing the cards and results and Sue Ferguson for organising the carts and the bar. The visitors were very complimentary of our lovely course and we hope to see them back for our Triple T tournament in early May.
(Contributed by Sue Rennie)
Ladies – Wednesday 17th March 2021
Resplendent in bits of bright green clothing for St Patrick's Day, plus the odd red sock to help win the Americas Cup, the women golfers gathered to play on another beautiful blue sky day. Winner of the best dressed golfer was Margaret Nelson. The eighteen holers competed in the first round of the Stableford Trophy and the haggle winners for the day were Sue Ferguson (70), Anne Hawkins (72), Barbara Taylor, Vicki Kimberley, Merle Munro, Chris Edkins and Carol Plowman (73), Roseanne Parkes (74), Chris Jileson, Sheryl Fraser and Dianne Cameron (75), Ann Percy, Sue Virtue, and Margaret Nelson (76), Barbara Corney (77). Congratulations to the two ladies who took only two shots to complete a hole; Elaine Couper on the fourth and Karen Kingan on the seventeenth.
The nine holers, who came home a lot fresher than some who were in the heat for longer, played Bogey. The equal winners were Robyn Faire and Wendy Grierson.
The term Bogey was first coined in Great Yarmouth, England. In 1890 the idea was conceived of standardising the number of shots at each hole that a good golfer should take and called the 'ground score.' This style of competition was introduced for use in match play. During one competition someone exclaimed that, "This player of yours is a regular Bogey man", a reference to the subject of an Edwardian music hall song "Hush! Hush! Hush! Here Comes the Bogey Man", which was popular at that time. So at Yarmouth and elsewhere the ground score became known as the bogey score.
(Contributed by Marion Johnston)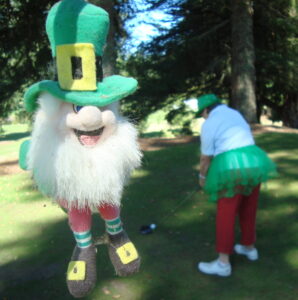 Ladies – Wednesday 10th March 2021
A large field of 34 ladies turned up to compete in the first round of the stableford competition. It was great to see some new faces and an old one returning to golf after a few years away. It was a lovely calm but overcast day and the rain held off till most people had completed their rounds. Harriet Byelich was the winner with an impressive 42 points, followed by Ann Percy on 39 and Anne Hawkins on 38. Next were Sue Jordan and Lynne Bacon on 37. Daphne Ferguson, Pauline Mason and Joanne Begg all had 36 points, followed by Anne Maree Harland and Wallis Jones on 35 and Jane Fraser on 34. There were 2 twos today: Joanne Begg on the 4th and Anne Hawkins on the 17th.
In the nine hole ladies stableford competition, Robyn Faire came out on top and Eileen Kay was second. Robyn managed to have a birdie on the par 5 3rd hole, which is not unusual, but her scoring 6 points for that birdie is. Usually you score 3, 4 or 5 points for a birdie, not 6. That is an excellent score and would have made her scorecard look better very quickly.
A big thank you to Harriet for organising Michael Dixon from the Referees Association at Waikato Golf to come down to Taumarunui to run a session on the new rules that were introduced last year. A small group of golfers turned up and found the session very informative and clarified quite a few areas where there was confusion.
(Contributed by Sue Rennie)
Ladies – Wednesday 3rd March 2021
It was goodbye to Summer golf and hello to the 2021 season of women's golf which started with openind day. Opening and closing days tend to be more social than serious in order that the women who play eighteen and nine holes can mix and mingle; so the competition for the day was Ambrose meaning four people play as a team with everyone hitting their ball from where the best shot landed. Six teams played off the first tee and five teams from the ninth making a total field of forty four players. The winning teams starting on the first tee were, first, Anne Hawkins, Harriet Byelich, Margaret Nelson and Ann Hay, and second, Chris Edkins, Ann Percy, Sara Porrit and Eileen Kay. The winning teams who started on the ninth tee were, first, with the highest score of the day, Jane Brown, Merle Munro, Brooke Ruwhiu, Vicki Kimberley, and second, Joanne Begg, Imelda Woolston, Pauline Mason, and Jenny Braithwaite. One golfer was very delighted when being the last of the group to putt she managed to get the ball in the hole. Jubilant she proceeded to the next tee where she discovered, when it was her turn to drive, that she had been too excited to remember to retrieve her ball from the hole.
Summer season winners from the small group who braved the hot sun to play informally on a Wednesday were Paulo Bhullar, Sue Virtue, and Glenys Wheeler (eighteen holes) and Judy Fox (9 holes). Jenny Braithwaite won the ladies division of the Sunday Summer Cup series.
(Contributed by Marion Johnston)
Heaps Tournament – Sunday 31st January 2021
Always a great annual summer tournament, "the Heaps" as it's affectionately known, attracted 150 players from 19 clubs. Of course it wouldn't be the Heaps Tournament without heaps of prizes, $7000 worth in fact, plus heaps of food and heaps of fun. A lot of laughter was heard around the course as players enjoyed themselves and each others company and the clubhouse was absolutely buzzing afterwards. The large contingent from Waiuku took us into the evening with their talented guitarist and lyrical repertoire. Trophies were awarded to Paikea Waller (Taumarunui) for best nett over field – 63, Pieta Gilbert (Waimarino) ladies best stableford – 42, John Sneddon (Taumarunui) men's best stableford – 42 and Jason Simpson (Taumarunui) best gross over field – 70. Congratulations to all the trophy winers and prize winners.
(L to R) Paikea Waller, Jason Simpson, Pieta Gilbert and John Sneddon
A partial view of the impressive prize table