Men – Saturday 13th April
Thirty seven keen golfers faced the starter for the second round of the Tarrangower Shield and the first round of the Consolation. Once again the weather was perfect for golf and even though the greens had just been cored it didn't seem to matter as there were ten 2s, which is the most this year by a country mile. Best individual score of the day was shared by Noel Lawson and young Shaam Bhullar with 40 points. Second on 39 was Sam Baker and Terry Kay; and third with 38 points, Dave Benefield. The best gross of the day went to Noel Lawson with 76 off the stick. Dave Benefield and Murray Robertson second to that with 78. (Source – Terry Kay)
Ladies – Wednesday 10th April
Joint winners of the Senior Women's Cup were Merle Munro and Joanne Begg, each with 42 stablefords, although Merle won out on a count-back for the day's Stableford competition. The other haggle winners on the day were Sara Porritt, Jane Fraser (41), Barbara Taylor (39), Anne Hawkins (38), Sue Ferguson, Karen Kingan (37), Carol Plowman, Jenny Tibby, Sue Rennie (36), Imelda Woolston (35) and Elaine Couper (34). Nine hole Stableford winners were Wendy Grierson, Anne Hodges and Shirley Barton. Thankfully the threatened rain came to nothing.
I wonder if anyone else has had this happen – at the next tee couldn't find the ball I was playing with although I was sure I had taken it out of the putting hole. After looking everywhere and retracing my steps but there was no sign. Duly teed off with another ball and when I got to the green and took out my putter lo and behold there was the original ball – still attached to the rubber sucker for extracting the ball from the putting hole. (Source – Marion Johnston)
Men – Saturday 6th April
It must just about qualify for the Guinness Book of Records with 61 in the field. Although to be fair, there were a dozen visitors from Horowhenua plus a couple of local ladies joining in. That said, 47 local men is one more than opening day so we can't complain. Once again the weather played its part with a very pleasant 19 degrees and light cloud. This was the first round of the Tarrangower Shield competition with some players having first round byes. The competition is made up of teams of two with the best stableford score from each team deciding whether the hole was won, lost or halved. Individual scores were well above average with 26 players playing to their handicap or better. Top of the pops was Jeff Hall with 45 points. Rob Sharples had 43, Barry Littler and David Todd next on 42 points. Suprisingly there were only four 2s; Barry Littler, Joe Heale, Richard Hall and Laal Bhullar. The best gross went to Barry Smith with a 74 off the stick followed closely by Dave Benefield 75 while Laal Bhullar and Lain Bacon hit 76. (Source – Terry Kay)
Ladies – Wednesday 3rd April 2019
A field of 39 turned out for today's LGU competition. The standout winner, with a nett of 63, was Margaret Steedman. Margaret's big win occasioned an immediate wiping and updating of the Shootout board. Under the heading 'other winners' were Jane Fraser 66, Sara Porritt 67, Christina Jilesen and Merle Munro 69, Wallis Jones 70, Julie Owen, Sue Virtue and Joanne Begg on 71; Barbara Taylor and Glenda Street on 72; Lynne Bacon 73; then Marion Johnston, Linda Smith and Daphne Ferguson on 74.
In conjunction with the LGU competition, players could enter the National Teams Event which will see the four top qualifiers representing our club at the National Teams Event in May, held this year in Te Awamutu. Congratulations go to Jane Fraser, Joanne Begg, Karen Kingan, and Pauline Mills.
The nine hole winners were Wendy Grierson and Anne Hodges on 31 followed by Eileen Kay on 34.
Quite a number of players are using electric trundlers which certainly takes the pain out of pushing but also has its drawbacks. With some models it is only too easy to tap the controls inadvertently and send the trundler charging into all the others as we gather at the start. Somehow or other it only takes the merest nudge and not only does the trundler set off but often at the fastest setting with the owner dashing after it. Controlling your own requires you to be alert, but trying to control two at once can require the agility of a ninja as you dash between each trundler obstinately refusing to head the way you pointed it – so much for trying to be of assistance to someone who has momentarily abandoned their clubs. Still, there is a childish pleasure in following a well behaved trundler up a hill, happily swinging your arms. (Source – Marion Johnston)
Men – Saturday 30th March 2019
The weather gods were smiling on Saturday as 36 players took to the fairways in excellent conditions. A small group of our lower handicap golfers had travelled to Putaruru for Pennants on the Sunday, thus reducing our numbers from the excellent 45 the week before. However the numbers will be back up this week for the first round of the Tarrangower Shield.
The format for the day was Russian Roulette. It was a fun day where teams of two multiply their stabelford scores on each hole. For example one player gets three points and his partner gets two, then the team scores six points. It is unfortunate when one team member scores a three or four pointer only to have his partner score zero points. The teams score is then….zip. Always good to play something a little different.
The winning team was grandfather and grandson combination of Santokh and Nihaal Bhullar with 92 points. Runners-up were the father and son team of Laal and Shaam Bhullar with 87. Third place went to Erik Lei and Graham Carmichael with 84 and fourth to Barry Smith and Mike Gavin on 81. The lowest score of the day was 51 points (names withheld to avoid any embarrassment). Four 2s were scored: Garry Grimes, Shaam Bhullar, Murray Anderson and Peter Jacobson. Best gross of the day went to Laal with 74 while Murray Robertson and Barry Smith were runners-up with 77 off the stick. Well done to all the winners. Still plenty of run out there and with the greens playing well all contributed to good scoring. (Source – Terry Kay)
Ladies – Wednesday 27th March 2019
The competition this week was Putting and the popular winner from 39 players was Jane Brown with 30 putts on a countback from Jill Burton. The other ball winners were Chris Edkins, Jenny Tibby, Karen Kingan and Lynne Bacon with 31 putts; Ann Hay, Karyn Prestage, Glenys Wheeler and Sue Rennie with 32 putts; Chris Jilesen, Barbara Taylor, Sue Jordan and Pauline Mills with 33 putts; Jane Fraser and Wallis Jones with 34 putts. Equal winners of the nine hole putting competition were Anne Virtue and Anne Hodges. After my comments on the erratic play of others last week it seems only fair that the 'fates' determined to pay me back by having me visit parts of the course I have never been in forty years completely destroying any attempt to reduce the handicap. (Source – Marion Johnston)
Men – Saturday 23rd March 2019
Another magnificent golfing day in paradise was probably the best way to describe the conditions last Saturday with an excellent field of 45 fronting for the third and final round of the Mountain Handicaps. This was probably the largest Saturday field in the past 12 months. Best score of the day went to Grant Alabaster with 43 stableford points followed by his partner in crime Paul Dowie on 42. Kevin Shannon came in third with 40 along with Wally Anglesey. Fourth were John Sneddon and John Tito with 39. Oddly enough there were only two 2s, namely Grant Alabaster and Eric Lei. So who won the Mountain Trophy Handicap event for 2019? None other than the second youngest player in the field, young Nihal Bhullar with his best two rounds totaling 80 stableford points. Well done Nihal. Runner-up was Wally Anglesey with 79 points on a count back with Richard Hall. Once again it was great to see some old faces making a return to golf and some new ones as well. (Source – Terry Kay)
Ladies – Wednesday 20th March 2019
A large field of over 40 members turned out on a beautiful day for the first round of the Stableford Trophy. The day's haggle winners were: Merle Munro (44), Lynne Bacon (42), Susan Virtue and Annette Tylee (41), Margaret Steedman, Elaine Couper, Jill Burton, Cara O'Donnell, Marion Johnston and Barbara Corney (40), Chris Edkins and Jose Heale (39), Pauline Mills, Joanne Begg and Linda Smith (37). Nine hole winners were Anne Hodges (19) and Jeanne Gomas (18).
For a couple of players, returning to golf after a long break meant that quite a number of the eighteen holes were spent finding unvisited parts of the course, revisiting some areas and even going backwards with sudden warnings to others to "look out'. Bursts of laughter helped to keep them from giving up with surprising moments of form stabilizing to some satisfactory golf. The card checkers would be forgiven for thinking that in each case two different people must have played the round.
A big thank you to the ladies in the kitchen who, after a hot round of golf, slave over the hot toasted sandwich maker. (Source – Marion Johnston)
Ladies – Wednesday 13th March 2019
Despite chants of "wet before seven dry by eleven" and "the forecast was for rain clearing" the umbrellas went up and never came down. Soon the course was definitely squelchy with puddles forming, and the large areas of sunburnt grass turned slippery. Occasionally the drizzle would let up just to hose down again – ghostly manic laughter coming from the heavens.
Nobody was expecting great scores and they were right. My partner and I were the last to trail in absolutely 'drookit' and it would be fair to say that neither of us realised that she had the winning score for the day.
The competition was the first round of the LGU and the Captains Trophy, and the Haggle ball winners were: Sara Porritt (71), Roseanne Parkes, Merle Munro and Lynne Bacon (73), Anne Hawkins, Jenny Tibby, Sarah Leilua, Jill Burton, Harriet Byelich and Elaine Couper. (Source – Marion Johnston)
Ladies – Wednesday 6th March 2019
Forty-five members turned out for the first day of the season and a nine hole competition to start the year very sociably on a pleasantly overcast day. Six teams of four set off from the first tee and the same from the ninth, crossing over to play the final holes on the other half of the course. Each team added their best three stablefords for each hole and the winners of those starting on the ninth hole with an outstanding 71 stablefords were Merle Munro (a new member), Harriet Byelich, Evelyn Heale and Jill Burton. Runners-up on the back nine were Glenda Street, Annette Tylee, Anne Hodges and Glenys Wheeler with a not too shabby total of 69. Of the first hole starters the winners were Anne Hawkins, Barbara Taylor and Carol Plowman with a total of 65 stablefords followed by the team of Christina Jilesen, Sue Rennie, Sarah Leilua, and Robyn Croy on 63. (Source – Marion Johnston)
Mixed – Sunday 27th January 2019
The 2019 Taumarunui New World Heaps Golf Classic saw 116 players assemble from 15 clubs around the North Island to compete in perfect conditions and produce some SIZZLING results. Thirty nine stablefords or better were needed for even a sniff at the $6,500 prize table. Local Erik Lei, playing off a 16 handicap returned a blistering nett 59 to take the best nett. Turangi's Chris Turner, on a nine handicap, played 69 – two under par, to win best gross. Two locals took out the top mens and womens stableford; Carol Plowman with 45 and Greg Simpson 44. Forty nine players out of the 116 had 39 points or better. Other good scores included Lance Tibby (Taumarunui) 43, Christine Edkins (Taumarunui) 43, Christina Jilesen (Taumarunui) 42, Paul Dowie (Taumarunui) 42, Neville Keys (Waiuku) 42, Matt Short (Omokoroa) 42, Duane Dixon (Waimarino) 42, Robert Edmonds (Waimarino) 42.
Erik Lei – best nett player of the tournament had the trophy presented by Sue Jordan.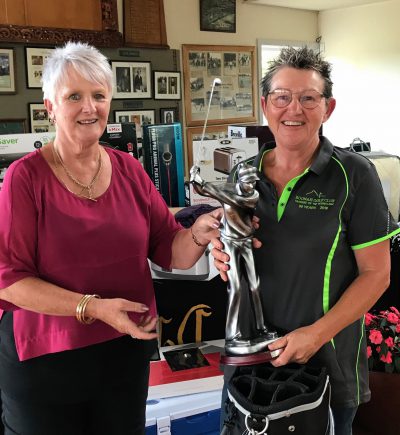 Carol Plowman (Taumarunui) won best Ladies Stableford with 45, presented by Sue Jordan.
Heaps committee member Sue Jordan presents Chris Turner (Turangi) with Best Gross Cup for his 69.
A portion of the Heaps prize table.
Local Greg Simpson took out the Mens Stableford prize with 44.
Some of the early finishers relax on the deck.