Left Handers' Tournament – 7 & 8 September
This year we celebrated our 70th birthday. Eighty four players entered to play representing 38 golf clubs from all around the North Island. Saturday's weather was not too bad and there some good scores. Sadly Sunday was not so good and 18 players pulled out. However the remaining hardy souls battled through the rain scoring well despite the inclement weather. The celebratory cake was cut just before a sumptuous dinner and players spent time catching up with old friends during the evening.
Winners are as follows: 36-hole nett winner – R Maxwell (Urenui) 134; 36-hole Stableford – John Ainsworth (Westown) 79; Senior Men Gross – Sonny Te Kanawa (Waitomo) 154; Intermediate Men Gross – Dennis Mills (Urenui) 173; Junior Men Gross – Daniel Scotson (Rangitikei) 184; Senior Men Nett – Mike Cotter (Paeroa) 135; Intermediate Men Nett – Owen Young (Waitemate) 140; Junior Men Nett – Noel Crocker (Rangitikei) 145; Ladies Gross – Harriet Byelich (Taumarunui) 198; Ladies Nett – Carol Mahon (Walton) 154; Ladies Stableford – Mihi Yates (Walton) 61. Right-handed supporters – Nett Ben Roberts (Manawatu) 139; Stableford Evelyn Mills 63.
A huge thank you to our sponsors and to the many local righties who helped us make this tournament the great success that it proved to be.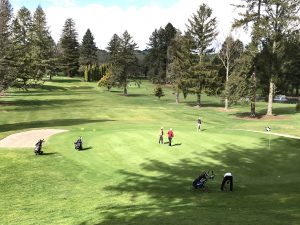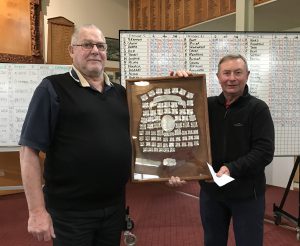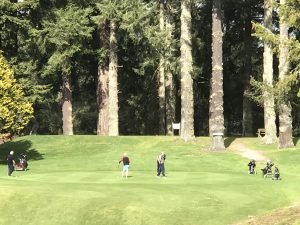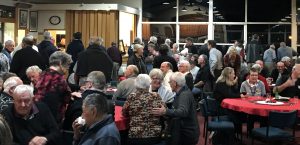 Ladies – Wednesday 5th September
A beautiful sunny and surprisingly warm day was the reward for all the ladies who came to golf despite the doom and gloom warning of rain. The competition was the fifth round of the Stableford Trophy and third round of the Jane Brown Trophy. I can bathe in the reflected glory of playing with two of the winners of the haggle, Karyn Prestage and Glenda Wright, who came home with 40 stableford points each, followed by Merle Munro, Jane Fraser, Jane Brown, and Anne-Maree Harland on 37. I managed a two on the real 'Drop', back in action with its water hazard, but had to share the glory with Jane Brown who also had her two on the fourth and Jill Burton with a two on the seventeenth.
Shirley Barton came out the winner for the nine hole players.
There is no competition on 12th September due to coring taking place. However there is Grandmothers' Day on Monday 16th (9.30 assemble – open to all ladies), just come along. Players should find a partner for the 27 hole Fred and Ferg Tournament on the following Monday – pop your names on the board. (Source – Marion Johnston)
Ladies – Wednesday 28th August
The competition today was the sixth round of LGU and fourth round of the McElroy Cup so the play for the day was nett. Runaway winner of the haggle was Karen Prestage with a nett score of 67. The sunny day had brought out a large field and the other winners on the day were Merle Munro (72), Carol Plowman (73), Sheryl Fraser and Roseanne Parkes (74), Annette Tylee, Marie Cadogan, Cara O'Donnell, Jill Burton, Anne-Maree Harland and Sue Ferguson (75), Joanne Begg, Jenny Braithwaite, Glenys Wheeler and Christine Edkins (76).
The nine holers played a Bogey competition with Anne Hodges and Shirley Barton coming out one up with Judy Fox all square.
The eighth hole green has a hill on it, an escarpment, okay, a slope right across it. When the hole is at the top of the slope and your ball is at the bottom there are endless ways in which things can go very wrong. With the intention of not shooting past the hole a gentle putt is required. Sometimes the ball can run back towards you many times before you lose the plot and hit it too far. Then it is a matter of not going past the flag on the way back or, yup, your ball rolls gently down the slope again. Returning to hitting uphill again with insufficient power can mean the ball draws a beautiful parabola right across the whole of the slope. So much fun to be had on just one tiny patch of the golf course. (Source – Marion Johnston)
Ladies – Wednesday 21st August
I'm quite keen on ornithology but when it comes to golf a 'birdie' turns out to be a score one less than par and not a spotless crake – though just as rare. On Wednesday it was obviously a blue moon day because two of the players had 'birdies'. Cara O'Donnell achieved her first 'birdie' ever and her first 'two' at the fourth hole. Her drive took her over the water tanks to the edge of the green and a perfect putt sent the ball home to the hole three metres away. And congratulations to Jane Fraser for her 'birdie' on the sixth, a par four hole which she completed in three strokes.
The competition for the day was the fourth round of the Stableford Trophy and the second round of the Jane Brown Stableford Trophy. The haggle winners for the day were Karen Prestage, Karen Kingan and Cara O'Donnell on 39 stableford points with Harriet Byelich on 38 and Sue Rennie on 36. The small field were very happy with the weather which had been very pleasant – well maybe one nasty little shower – and were adamant that those who had stayed away had missed a great day for golf as the scores prove. (Source – Marion Johnston)
Ladies – Wednesday 14th August
We have been lulled into a false sense of security for months now. Even the crotchety Luddites were getting used to its ways, fairly prompt delivery, and time saving uses. Whether you had to put your own score in on the screen or fill 'X' in on the page to be scanned we had all accepted that it was doing the job right and calculating other things too thanks to the clever people like Evelyn who know its workings. But on Wednesday no-one could save us from the complete collapse of the electronic Score Card machine. There was wailing and gnashing of teeth but all to no avail and once again our old fashioned pre-printed cards came into their own. All this furore found the field setting out ten minutes after the half hour for the third round of the Captain's Trophy (a nett competition) but worse was to come – we had all forgotten the time-consuming checking of totals and working out of count-backs that we used to have to do – congratulations to those on cards for their hard work. So a little later than usual the following winners were announced: Roseanne Parkes (68), Anne-Maree Harland (71), Jill Burton, Chris Edkins, Elaine Couper, Carol Plowman, and Jane Fraser all on 72. Annette Tylee and Ann Percy (74), Julie Owen and Karyn Prestage (75), Glenda Wright and Joanne Begg (76).
The nine holers played a Bogey competition and the winner was Wendy Grierson who finished up all square followed by Robyn Faire on one down.
The Waikato Golf Teams Competition certificates had arrived and were given out to the members of our team who had come second by only one point – how galling. The four who played so well just to be pipped at the post, were Jane Fraser, Karen Kingan, Carol Plowman and Elaine Couper – great job. (Source – Marion Johnston)
Ladies – Wednesday 7th August
Today was the Stableford competition I had been looking forward to. The field on these days sees groups of a range of handicaps which means catching up with people you don't often play with. One of my colleagues had just returned from golfing in Australia where she admitted to losing five balls into water on the first day. Not a problem on our course where even 'The Drop' with its water hazard has been replaced by the temporary green behind the water tanks. The weather supplied some rain particularly for the last couple of holes but even those who tend to give up when it's inclement held on to finish as they were having a good round.
Winners of the haggle with excellent stableford scores were Chris Edkins (41) and Sara Porritt (40). Sara had to spring into action on the tenth when her trundler decided to head backwards at a great rate towards the lily pond. The other day's winners were Glenys Wheeler and Jenny Tibby (38), Wallis Jones and Daphne Ferguson (36), Sue Rennie, Elaine Couper, Harriet Byelich and Evelyn Heale (35). The nine hole winners were Wendy Grierson (18) and Julie Owen (17). No rewards for me but I did stand and gloat for a while on the first green having got there in two shots for possibly the first time ever. (Source – Marion Johnston)
Ladies – Wednesday 31st July
Approximately 15 played on Wednesday many not willing to risk the weather which was wet and cold with some fine spells. The day's competition was Putting and despite the conditions many players did well when you remember that an average of two putts per hole, which is quite respectable in my eyes, would mean a total of 36. Karen Prestige was assisted by a very good two on 'The Drop' but she was the only player to get a two. Robyn Gower from the Tuesday Players was welcomed into the starting group. Winners were Linda Smith (28), Merle Munro (29), followed by Susan Virtue, Jill Burton, Karen Kingan, Evelyn Heale and Roseanne Parks all on 32. The trick with a putting competition is to hope that your shot onto the green, while not ending up too far from the pin, is actually just off the green, and even although you might use your putter it doesn't count as a putt. Linda admitted that she did have a few of those but said for some reason her putts were just going in. (Source – Marion Johnston)
Ladies – Wednesday 24th July
Because of the rain, the previous week's Stableford competition was postponed, but on Wednesday 24th the fog gave way to a lovely day for golf for the LGU fifth round and McElroy Cup third round so the day's competition was Nett. The winners were Karen Prestage and Anne-Maree Harland each with a fantastic 67 nett closely followed by Chris Edkins on 68. So, despite the fog and veneer of wet grass, lots of players had good scores with Sue Virtue and Jill Burton on 71 and Margaret Nelson on 73. Others to win the haggle were Elaine Couper, Annette Tylee, Sara Porritt and Margaret Steedman on 74, and Wallis Jones and Sue Rennie on 75. Twos were scored by Anne Hawkins on the fourth hole and Roseanne Parkes on the seventh hole.
To win a nett competition you have to play in a well controlled consistent manner which I never seem to be able to achieve dashing all my hopes, after being more than usually careful, just at the last moment by cracking my score up by a couple of nines. I'm looking forward to the postponed Stableford round which is much more forgiving and even sometimes rewarding.
The winner of the nine-hole golfers was Anne Hodges with Rosie Buckland and Judy Fox coming equal second.
The Tuesday group had a lovely day with Robyn Gower coming in best of the day closely followed by Shannon Pepper. (Source – Marion Johnston)
Ladies – Wednesday 10th July
Jill Burton had a great round romping home with a splendid 66 nett which, when added to her score last Wednesday, gave her the win in the Jubilee Cup, a 36 hole two day nett competition. Only two behind with a total nett of 139, came runner-up Karen Kingan who had a 69 in the second round. To top it off the pair of them holed out in two on the fourth hole. Needless to say these two also topped out the haggle followed by Imelda Woolston (70), Chris Edkins (71), Linda Smith and Annette Tylee (72), and Julie Owen (73).
In the nett competition for the nine holers, Anne Hodges came in the winner with 35 followed by Rachael Brown on 38.
Jane Brown reports that her Tuesday golfers all played quite well and the winner was Robyn Gower followed closely by Linda Willis who handed in her best ever round.
As promised, I purchased a permanent marker and before playing covered my ball in red circles which solved all problems and has given me no anecdote to report today. I was a little disappointed with my artistry but the surface of a golf ball is a bit challenging. (Source – Marion Johnston)
Ladies – Wednesday 3rd July
Evelyn Heale won the haggle on a count back from Karen Kingan, both having a 70 nett, Evelyn's score was helped by a two on the seventh hole achieved with a very long putt off the side of the green. The day was a bit dismal with misty rain from time to time but twenty five players turned out to compete in the first round of the Jubilee Cup which is a nett competition. Other haggle winners were Jill Burton (71), Sue Ferguson and Ann Percy (72), Imelda Woolston (73), Julie Owen (74), Anne-Maree Harland and Chris Edkins (75), and, on a count back, Margaret Nelson (76).
From now on I am going to mark my ball with a vivid marker – anyone know where you can get a tartan one? Golf balls are the prize for winning the haggle so you can imagine most of the ladies have identical ball markings and you quickly learn to check the ball you are playing but, tip for the uninitiated, don't just check the make and number turn the ball over, on two consecutive holes I discovered after playing the ball that the backside had the owner's mark.
Ladies – Wednesday 26th June
A frosty start to the morning produced a colourful selection of headgear and an amazing variety of handwarmers – not just cosy gloves but tiny hotwater bottles and spaceage plastic things plus the odd hot beverage to get your hands round. The greens were dry and the sun did come out shortly though rather dazzling on the dewy grass making ball spotting tricky. The competition was the fourth round of LGU and the round winners were Anne-Maree Harland (Silver), Ann Percy (Bronze 1) and Annie Carmichael (Bronze 2). The winners of the day's nett haggle, from thirty-five entries, were Ann Percy (69), Dianne Cameron (70), Annie Carmichael (71) who also had a two on the fourth hole, Sue Virtue and Karen Kingan (72). Anne Hodges was winner of the Nine Holers net haggle with Shirley Barton and Robyn Faire equal second.
Golfers are a friendly lot and when one player went into the pond on the ninth it surely made them feel better when their partner did the same thing. In all five balls ended up in the pond but neither player was deterred, never considering the alternative route, and eventually they both made it over the water. I've mentioned the fact that the sun made balls harder to find but one player was determined to bypass her very bright yellow ball heading no doubt for a colourful leaf or just talking too much on so many occasions that I felt it was worth a poem. Our B*** prefers a ball that's bright and hits it straight and true, but though we say it's in plain sight, our B*** just walks on through. There was no end to the entertainment when on the thirteenth hole, what had been a reasonable drive, bounced into a yellow evergreen tree with tight vertical foliage and was immediately swallowed up. A provisional drive was taken and then we headed for the tree. I shook some branches and the ball fell out which left us all wondering what we were supposed to do under the rules of golf. Later, research was done and here is the answer. Once the ball is found the provisional ball cannot be used. Because it was not the player who shook the ball out of the tree, the ball could be replaced in the tree and the player could hit the ball in the tree without penalty. The other alternative is to take a one stroke penalty for an unplayable ball and place the ball any distance on the line backwards or no more than two club lengths to the side. In this case I think the feisty player in question would have happily hit the ball in the tree had we known – the tree should be eternally grateful. (Source – Marion Johnton)
Ladies – Wednesday 19th June
It was a freezing start at 8.30am for the final of the Ladies Championship Matchplay over thirty-six holes when the competing pairs hit off into the fog and disappeared. A small field followed on, playing a stableford haggle over eighteen holes. When they were finished and had had a break they and others headed out to watch the Silver and Bronze players who were by then playing the last nine holes in beautiful sunshine. The Veterans who had only to do eighteen holes had completed their game and Ann Percy came out the winner over Sue Virtue. They joined the others to watch the exciting golf being played. A close match for Silver Division Champion between Chris Edkins and Wallis Jones went to the thirty-seventh hole before Chris came out the winner. Another close match not won until the thirty-sixth hole was the Bronze 1 match between Harriet Byelich and Jill Burton when Jill won the match, and the Bronze 2 match between Linda Smith and Sara Porritt saw Linda win the competition. In the Nine Hole Matchplay Championship match between Judy Fox and Rachel Brown, Rachel came out on top.
Merle Munro won the Stableford haggle with 37 stableford points with Jenny Braithwaite (36) coming second and Glenda Wright (30) third. (Source – Marion Johnston)
Men – Saturday 15th June
There was a much improved turnout for the first round of the President's Trophy with 43 in the field. This was the first of three net rounds with the best two rounds counting. Top of the pops this week were Dick Rennie and Stephen Fox with net 66s. Runners-up were John Sneddon, Richard Hall, Kevin Shannon and Alan Ferguson all on 68 net, next on net 69 were Ross Kingan, Wayne Byelich, Tony Buckley and Tom Donovan. Best gross of the day went to Club President Murray Robertson and Dave Benefield with 77s. There were nine 2s this week. The swindle was shared by Dick Rennie and Stephen Fox. Well done to all these players. Winter has well and truly arrived with cooler air and damp fareways and rough effecting the ball flight and roll distances. No doubt handicaps will start to creep out a little to compensate. The greens are in excellent condition although understandably a little slower. It would be great if a few more of those retired golfers out there turned out for a social round of golf on Tuesdays and/or Thursdays. Tuesdays assemble 11.30 with tee off at midday. Its just a fun day with a $5 haggle. Thursdays are similar, but best to make up your own fours and starting time in advance. Any questions ask myself or Richard Hall. (Source – Terry Kay)
Ladies – Wednesday 12th June
While the penultimate round of the Matchplay Championships was being held the rest of the field played a Bogey haggle. Bogey means many things – links with trains or noses comes to mind – but in this case cards get marked with a + (kiss) if you play better, 0 (hug) if you play equal to, or – if you play below your handicap on that hole. Congratulations to Annie Carmichael who finished 2 up, Pauline Mason and Daphne Ferguson on 1 up, and Cara O'Donnell was all square. The nine hole winner was Eileen Kay. Thanks to a recent tournament the course was mostly cleared of the leaves which had been making ball finding rather difficult at times but I wish it had occurred to me earlier to look under the only dead leaf on the sixteenth fairway – who would suspect a ball could be so sneaky. The final round of the Matchplay Championships gets under way next Wednesday. These are the players who made it to the final – Silver: Chris Edkins and Wallis Jones; Bronze1: Harriet Byelich and Jill Burton; Bronze 2: Linda Smith and Sarah Porritt; Veterans: Sue Virtue and Ann Percy; Nine Holers: Judy Fox and Rachel Brown. The Silver and Bronze divisions have to play the best of thirty-six holes. (Source – Marion Johnston)
Men – Saturday 8th June
It must be winter as only 27 players were out of bed early enough to tee off at 11.30 am. It was just an ordinary haggle day with stableford points being the format. Best on the day was Aaron Owen with 41, runner-up Tony Buckley with 40 and Richard Hall third with 38. Just six players played to their handicap, testament to the fact that winter conditions make it harder to score with cold air and damp grass restricting the flight and run. Best gross of the day went once again to Peter Jacobson who also had a birdie on the drop. Alan Ferguson and Ken Detman scored the other 2s. Next week we begin the first of three rounds for the President's Trophy. The results will be determined by the player having the best combined net of two of the three rounds. As the Club did not have a trophy for this event, the late Bob Doms family have donated a trophy following his recent passing and this will be used for this competition. A nice thought from the family which I'm sure will be keenly contested in the years to come. (Source – Terry Kay)
Men – Saturday 1st June to Monday 3rd June – King Country Matchplay Championship
Seven players from Australia joined others from 42 clubs travelling from all over New Zealand to make up a full field of 96 for the King Country Matchplay Championship held over Queen's Birthday weekend. It is always pleasing to see familiar faces appearing year after year and so often bringing friends to introduce to this very popular tournament. Golfers fronted for the qualifying round on Saturday morning in what could best be described as inclement conditions. A number of closely contested matches resulted in some early 'upsets' once Matchplay got underway early Sunday morning. Main results were:
| TROPHY / DIVISION | WINNERS |
| --- | --- |
| Rodger Bartlett Memorial Trophy (Best Bross) | Simon Billington (Titirangi) 74 |
| John Doogue Memorial Trophy (Best Net) | Marty Ritchie (Manor Park Golf Sanctuary) 64 |
| King Country Championship Cup Winner | Cameron Emett (Windross Farm) |
| Runner-up | Thomas Mahoney (Winton) |
| Consolation | Steve Williams (Titirangi) |
| Tarrangower Handicap Cup Winner | Dean Sinkinson (Kinloch) |
| Runner-up | Allen Forrest (Porangahau) |
| Consolation | Marty Ritchie (Manor Park) |
| Ruapehu Handicap Winner | Brent Martin (Howick) |
| Runner-up | Steven Bonney (Wattle Downs) |
| Consolation | Henry Hohenberger (Windross Farm) |
| Ngauruhoe Handicap Winner | Gordon Bai (Warkworth) |
| Runner-up | Jason Newman (Wainuiomata) |
| Consolation | Alan Clark (Pukekohe) |
| Tongariro Handicap Winner | Richard Calkin (Kapiti) |
| Runner-up | Blair Inglis (Wainui) |
| Consolation | Paul Dowie (Taumarunui) |
| Piriaka Handicap Winner | Sam Edwards (Taumarunui) |
| Runner-up | Pat Pikari (Titahi) |
| Consolation | Brian Lynch (Australia) |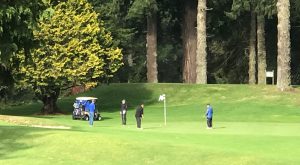 Ladies – Wednesday 29th May
Today marked the first round in the Matchplay Club Championships. Most players had a bye with just Vicki Kimberley and Karyn Prestage playing. A close contest meant they played to the 20th hole before Vicki came out on top. The rest of the field followed playing what turned out to be a nett haggle. The winner again was Jane Fraser on 71 with Harriet Byelich on 72. Other winners were Dianne Cameron and Merle Munro 75, Judith Hastie and Ann Percy 76, Sue Ferguson, Karen Kingan and Linda Smith 77. Marion Johnston astonished her playing companions, and herself, by having a two on the 17th hole, no putting required.
The nine holers were all playing their Matchplay Championships with no haggle.
Best on the day of the 'Tuesday Girls' was Robyn Gower. Jane Brown has a changeable number turning up on a Tuesday from a total of ten learners. They have progressed to playing on the course and recently a group had a lesson from the professional at the Wairakei course where they played nine holes. (Source – Marion Johnston)
Men – Saturday 25th May
Thirty-five in the field this week with only 13 out of the 35 playing to their handicap or better. The competition format was called "Par". I won't bother to explain this to the uninitiated, most regular players have trouble working it out as we only play this format about twice a year. The best gross of the day went to that man again, Laal Bhullar with a 76 off the stick. I think this is about the third time out of the past four weeks Laal has demonstrated his considerable skills. Pretty good when you consider he only plays once a week, but my spies tell me he has been spotted on the course practicing after work from time to time. Only two 2s, both by Club Captain Peter Jacobson. He told me installing a putting green that it was the best move he ever made by! The best individual par scores were Ross Kingan with a score of plus 5, young Nihal Bhullar close behind with plus 4 and new comer to the club, John Sneddon with plus 3. Well done to all those golfers. (Source – Terry Kay)
Ladies – Wednesday 22nd May
Everyone was hoping that the rain would have stopped by the time we assembled outside but it was not to be and the drizzle continued for most of the game sending a few home early. The haggle was a nett competition. Judy Fox was the nine hole winner and the eighteen holes winner with, given the wet ground, a commendable 71 nett was Jane Fraser. Harriet Byelich, Joanne Begg and Wallis Jones were all 75 nett. Karyn Prestage, Sue Ferguson, Merle Munro and Elaine Couper were 77; Sara Porritt and Anne Hawkins 78; Ann-Maree Harland (who had rashly promised the weather would improve) was the last to win a ball with her 79. To put scores in perspective I can divulge that the cards I had anything to do with were well into the 80s. (Source – Marion Johnston)
Men – Saturday 18th May
There were 36 in the field on what I was told was a fine but cloudy day. It was a teams event using a yellow ball to score on a set number of holes per player. By all accounts it was a fun day enjoyed by all. Top team for the day with 44 points was Dick Rennie, Bob Frew, Laal and Shaam Bhullar. The runner-up team with 43 points were Joe Heale, Sam Baker, Barry Smith and Ken Bullians. Best gross on the day went to Murray Robinson with 73 off the stick (only 2 over card) with runner-up Laal Bhullar on 75. There were six 2s. (Source – Terry Kay)
Ladies – Wednesday 15th May
The Eclectic Cup was held on what proved to be not too bad a day but the potential field had been intimidated by the weather forecast and sixteen players competed, although a couple did give up after eighteen holes. The eclectic competition takes the best scores at each hole over thirty-six holes and makes the best amalgamated score over eighteen holes which, after the handicap is removed, gives the eclectic nett score. Two players, whose names you see regularly as winners in this column, had the winning score of a nett 66 – Chris Edkins came first on a count back from Karyn Prestage. Harriet Byelich was third with 67; Elaine Couper and Susan Virtue had 69 with Evelyn Heale and Linda Smith on 70. There were no nine hole or eighteen hole players but Daphne Ferguson, who played the previous day with the Tuesday ladies because she couldn't make it on Wednesday, had 47 stableford points, inspiring her playing partner Shannon Pepper to have her best ever round and win the Tuesday golf.
Ladies' Captain Elaine Couper announced that Harriet Byelich is the winner of the MacKnight Cup, an extra day handicap match play competition. (Source – Marion Johnston)
Men – Saturday 11th May
Well its come and gone for another year – the Club's most prestigious teams event for men in the annual calendar – the Tarrangower Shield, was played out in lovely golfing conditions last Saturday. Victors were father and son team of Laal and Shaam Bhullar over Pat Keys and Rob Sharples. The match took to the 17th green to decide the winner and by all accounts was a closely fought match. I may be wrong but I suspect that Laal and Shaam would be the only father and son team to win the trophy over its 70 year history, and if that is correct then its double well done to them. Its also interesting to note that Shaam is only 12 years old and one of his opponents in his late 80s. No doubt about it, no other sport could produce an event with such a range of ages.
Consolation winners were Murray Robertson and Kevin Diamond over Stu Black and Graeme McNie. Well done to all those players.
Thirty seven players hit off in great autumn weather with Rob Sharples having the best stableford over the field with 41, closely followed by Bob Frew and Steve Roddis with 40. There were nine 2s, Jason Simpson getting two of them. The best gross of the day went to Murray Robertson with 78 off the bat and Laal Bhullar one shot further back. Despite the dry fairways and lovely greens, only 11 of the 37 players played to their handicap or better. (Source – Terry Kay)
Ladies – Wednesday 8th May
This was the second round of the Putting competition which is the best score of two out of three rounds. Another lovely day with 28 eighteen hole and ten nine hole players enjoying it. Knowing that it was just the shots on the green that counted meant some went to pieces a bit on the fairway with a certain amount of hilarity and one of my companions commenting that she had never seen a game like it as both myself and the player before me wildly hit trees on the right of the fairway only to have them delivered safely to the middle again by the trees. At another time she also noted that most people don't say 'Now why did that one go straight?'
Winners of the Putting Haggle on the day were: Sue Ferguson (30); Barbara Corney (32); Jenny Braithwaite, Jane Brown (31); Dianne Cameron (32); Glenys Wheeler, Jill Burton and Glenda Street (33). Congratulations to Sue Ferguson for a two at the twelfth and Marie Cadogan for a two at the seventeenth.
The Nine Hole winners were Ann Hay, Elaine McFetridge and Shirley Barton. (Source – Marion Johnston)
Ladies – Monday 6th & Tuesday 7th May – TTT Tournament
This is the third year that Ladies Golf has run the Taumarunui Two day Tournament and the numbers were up on last year with entrants from fourteen golf clubs around the North Island and from our own club. The weather was sunny; the course in excellent condition, and meals, entertainment and socialising made it a great time for all with the visitors looking forward to coming back next year.
Cameron Elliot of sponsor Property Brokers presented the prizes to:
Tongariro (Division 1)
Gross – Carol Chard, New Plymouth (157)
Nett – Maree Whiteman, Ngahinepouri (138)
Stableford – Jean McDermid, Hamilton (75)
Tarrangower (Division 2)
Gross – Margaret Johnstone, Ngahinepouri (188)
Nett – Jane Fraser, Taumarunui (139). Runner up – Imelda Woolston, Taumarunui (141)
Stableford – Denise Davies, Ngahinepouri (76)
Winning Team – Ngahinepouri
The Taumarunui 1 team comprising Imelda Woolston, Harriet Byelich, Sue Smith and Margaret Grenside were runners-up to Ngahinepouri. Other local stableford winners were Roseanne Parkes (72), Karen Kingan (71), and Wallis Jones (70). (Source – Marion Johnston)
Ladies – Wednesday 1st May
Today's competition was the third round of LGU and second round of the Captain's Trophy. Winners of the nett haggle were Karyn Prestage, Elaine Couper, Glenda Wright and Sara Porritt on 70, Chris Edkins 71. On 72 were Linda Smith and Evelyn Heale, who also had a two on the seventh hole. Annie Carmichael and Harriet Byelich were 73. I played with Annie, always a joy, and on the last hole didn't grab my camera fast enough as she stood on the front edge of the first tee swinging doubled over at the ball which was wedged against the timber half a meter below her feet, successfully chipping it to the eighth green. Other winners were Margaret Steedman and Carol Plowman 74, Sue Rennie and Imelda Woolston 75, and Merle Munro with 76. Club Captain Elaine Couper gave out the prizes to the LGU third round winners for Silver, Bronze 1 and Bronze 2, who were respectively Chris Edkins, Elaine Couper and Karyn Prestage.
Nine hole winners were Shirley Barton and Anne Hodges.
Sparkling sunshine and autumn leafs gave us some headaches finding the ball – at one time I had to have my partner move my trundler for me as I hadn't seen the ball it covered, and even a bright pink ball belonging to another player was invisible at an arm's length. No two games of golf are ever the same and sometimes it is just a mystery wrapped in an enigma. (Source – Marion Johnston)
Men – Saturday 27th April
Once again, the weather gods smiled on Tarrangower with perfect weather for autumn golf. Touch wood but we have had brilliant weather so far this season, long may it continue, but don't bet on it. Various battles were fought via the quarter finals and consoloation of the Tarrangower Shield. Semi finals will be played this coming Saturday.
Best gross of the day went to Murray Robertson with 74 off the stick (only 3 over par), followed by a young and up and coming golfer Peter Jacobson one shot further back. There were six 2s with Peter getting two of them. Best stableford score of the day went to Peter with 43 followed by Rob Sharples and Kevin Diamond both with 41. Third with 40 points each were brothers Shaam and Nihal Bhullar. Fifteen of the 34 players played to their handicap or better. We also had four visitors from St. Andrews Club in Hamilton join us who were very impressed with our course and hospitality shown. (Source – Terry Kay)
Ladies – Wednesday 24th April
The second round of the Nancy MacCormick national competition was played today. The day's haggle winners were Linda Smith and Harriet Byelich on a 72 nett, Jane Fraser and Jose Heale 72.5, Sara Porritt and Sue Virtue 73 who also had a two on the fourth, but the overall winners of the Nancy MacCormick competition were the winners of round one, Imelda Woolston and Margaret Nelson who were well in the lead with last week's great score and simply weren't caught. Following after the competitors was a small field of eighteen hole golfers playing a stableford haggle. The winners were Anne Hawkins (38) and Carol Plowman (37).
Wendy Grierson won the nett haggle held for the nine holers.
Fog was still on the course at the start of the game which meant the grass was damp and one onlooker enjoyed a shower from the backswing of the player teeing off. Once the fog cleared it was the kind of day when you take a lot of pleasure from playing on our course with Autumn beginning to turn the colours of the trees and great views in all directions. (Source – Marion Johnston)
Ladies – Wednesday 17th April
Today was the first round of the two round Nancy MacCormick national competition, plus a stableford haggle for those who were not entering. The sun was bright but the wind a little bitter and sunny spots were a good place to wait while the draw was being worked out. As the Nancy MacCormick foursomes has each pair playing alternate shots, the players set out in groups of six. The rest of the field followed on in threes ensuring everyone had a fairly brisk round of golf. The winning pairs for the first round of the Nancy MacCormick were Imelda Woolston and Margaret Nelson with a standout nett score of 62, followed by Sara Porritt and Sue Virtue on 67, Jane Fraser and Jose Heale on 69, Dianne Cameron and Sue Jordan also 69, and Jill Burton and Anne Hawkins on 70. The eighteen hole haggle was won by Annette Tylee with a splendid 41 stablefords. Other winners were Daphne Ferguson (38) and Sarah Leilua (37). The nine hole pairs competition was won by Anne Hodges and Elaine McFetridge. (Source – Marion Johnston)
Men – Saturday 13th April
Thirty seven keen golfers faced the starter for the second round of the Tarrangower Shield and the first round of the Consolation. Once again the weather was perfect for golf and even though the greens had just been cored it didn't seem to matter as there were ten 2s, which is the most this year by a country mile. Best individual score of the day was shared by Noel Lawson and young Shaam Bhullar with 40 points. Second on 39 was Sam Baker and Terry Kay; and third with 38 points, Dave Benefield. The best gross of the day went to Noel Lawson with 76 off the stick. Dave Benefield and Murray Robertson second to that with 78. (Source – Terry Kay)
Ladies – Wednesday 10th April
Joint winners of the Senior Women's Cup were Merle Munro and Joanne Begg, each with 42 stablefords, although Merle won out on a count-back for the day's Stableford competition. The other haggle winners on the day were Sara Porritt, Jane Fraser (41), Barbara Taylor (39), Anne Hawkins (38), Sue Ferguson, Karen Kingan (37), Carol Plowman, Jenny Tibby, Sue Rennie (36), Imelda Woolston (35) and Elaine Couper (34). Nine hole Stableford winners were Wendy Grierson, Anne Hodges and Shirley Barton. Thankfully the threatened rain came to nothing.
I wonder if anyone else has had this happen – at the next tee couldn't find the ball I was playing with although I was sure I had taken it out of the putting hole. After looking everywhere and retracing my steps but there was no sign. Duly teed off with another ball and when I got to the green and took out my putter lo and behold there was the original ball – still attached to the rubber sucker for extracting the ball from the putting hole. (Source – Marion Johnston)
Men – Saturday 6th April
It must just about qualify for the Guinness Book of Records with 61 in the field. Although to be fair, there were a dozen visitors from Horowhenua plus a couple of local ladies joining in. That said, 47 local men is one more than opening day so we can't complain. Once again the weather played its part with a very pleasant 19 degrees and light cloud. This was the first round of the Tarrangower Shield competition with some players having first round byes. The competition is made up of teams of two with the best stableford score from each team deciding whether the hole was won, lost or halved. Individual scores were well above average with 26 players playing to their handicap or better. Top of the pops was Jeff Hall with 45 points. Rob Sharples had 43, Barry Littler and David Todd next on 42 points. Suprisingly there were only four 2s; Barry Littler, Joe Heale, Richard Hall and Laal Bhullar. The best gross went to Barry Smith with a 74 off the stick followed closely by Dave Benefield 75 while Laal Bhullar and Lain Bacon hit 76. (Source – Terry Kay)
Ladies – Wednesday 3rd April 2019
A field of 39 turned out for today's LGU competition. The standout winner, with a nett of 63, was Margaret Steedman. Margaret's big win occasioned an immediate wiping and updating of the Shootout board. Under the heading 'other winners' were Jane Fraser 66, Sara Porritt 67, Christina Jilesen and Merle Munro 69, Wallis Jones 70, Julie Owen, Sue Virtue and Joanne Begg on 71; Barbara Taylor and Glenda Street on 72; Lynne Bacon 73; then Marion Johnston, Linda Smith and Daphne Ferguson on 74.
In conjunction with the LGU competition, players could enter the National Teams Event which will see the four top qualifiers representing our club at the National Teams Event in May, held this year in Te Awamutu. Congratulations go to Jane Fraser, Joanne Begg, Karen Kingan, and Pauline Mills.
The nine hole winners were Wendy Grierson and Anne Hodges on 31 followed by Eileen Kay on 34.
Quite a number of players are using electric trundlers which certainly takes the pain out of pushing but also has its drawbacks. With some models it is only too easy to tap the controls inadvertently and send the trundler charging into all the others as we gather at the start. Somehow or other it only takes the merest nudge and not only does the trundler set off but often at the fastest setting with the owner dashing after it. Controlling your own requires you to be alert, but trying to control two at once can require the agility of a ninja as you dash between each trundler obstinately refusing to head the way you pointed it – so much for trying to be of assistance to someone who has momentarily abandoned their clubs. Still, there is a childish pleasure in following a well behaved trundler up a hill, happily swinging your arms. (Source – Marion Johnston)
Men – Saturday 30th March 2019
The weather gods were smiling on Saturday as 36 players took to the fairways in excellent conditions. A small group of our lower handicap golfers had travelled to Putaruru for Pennants on the Sunday, thus reducing our numbers from the excellent 45 the week before. However the numbers will be back up this week for the first round of the Tarrangower Shield.
The format for the day was Russian Roulette. It was a fun day where teams of two multiply their stabelford scores on each hole. For example one player gets three points and his partner gets two, then the team scores six points. It is unfortunate when one team member scores a three or four pointer only to have his partner score zero points. The teams score is then….zip. Always good to play something a little different.
The winning team was grandfather and grandson combination of Santokh and Nihal Bhullar with 92 points. Runners-up were the father and son team of Laal and Shaam Bhullar with 87. Third place went to Erik Lei and Graham Carmichael with 84 and fourth to Barry Smith and Mike Gavin on 81. The lowest score of the day was 51 points (names withheld to avoid any embarrassment). Four 2s were scored: Garry Grimes, Shaam Bhullar, Murray Anderson and Peter Jacobson. Best gross of the day went to Laal with 74 while Murray Robertson and Barry Smith were runners-up with 77 off the stick. Well done to all the winners. Still plenty of run out there and with the greens playing well all contributed to good scoring. (Source – Terry Kay)
Ladies – Wednesday 27th March 2019
The competition this week was Putting and the popular winner from 39 players was Jane Brown with 30 putts on a countback from Jill Burton. The other ball winners were Chris Edkins, Jenny Tibby, Karen Kingan and Lynne Bacon with 31 putts; Ann Hay, Karyn Prestage, Glenys Wheeler and Sue Rennie with 32 putts; Chris Jilesen, Barbara Taylor, Sue Jordan and Pauline Mills with 33 putts; Jane Fraser and Wallis Jones with 34 putts. Equal winners of the nine hole putting competition were Anne Virtue and Anne Hodges. After my comments on the erratic play of others last week it seems only fair that the 'fates' determined to pay me back by having me visit parts of the course I have never been in forty years completely destroying any attempt to reduce the handicap. (Source – Marion Johnston)
Men – Saturday 23rd March 2019
Another magnificent golfing day in paradise was probably the best way to describe the conditions last Saturday with an excellent field of 45 fronting for the third and final round of the Mountain Handicaps. This was probably the largest Saturday field in the past 12 months. Best score of the day went to Grant Alabaster with 43 stableford points followed by his partner in crime Paul Dowie on 42. Kevin Shannon came in third with 40 along with Wally Anglesey. Fourth were John Sneddon and John Tito with 39. Oddly enough there were only two 2s, namely Grant Alabaster and Eric Lei. So who won the Mountain Trophy Handicap event for 2019? None other than the second youngest player in the field, young Nihal Bhullar with his best two rounds totaling 80 stableford points. Well done Nihal. Runner-up was Wally Anglesey with 79 points on a count back with Richard Hall. Once again it was great to see some old faces making a return to golf and some new ones as well. (Source – Terry Kay)
Ladies – Wednesday 20th March 2019
A large field of over 40 members turned out on a beautiful day for the first round of the Stableford Trophy. The day's haggle winners were: Merle Munro (44), Lynne Bacon (42), Susan Virtue and Annette Tylee (41), Margaret Steedman, Elaine Couper, Jill Burton, Cara O'Donnell, Marion Johnston and Barbara Corney (40), Chris Edkins and Jose Heale (39), Pauline Mills, Joanne Begg and Linda Smith (37). Nine hole winners were Anne Hodges (19) and Jeanne Gomas (18).
For a couple of players, returning to golf after a long break meant that quite a number of the eighteen holes were spent finding unvisited parts of the course, revisiting some areas and even going backwards with sudden warnings to others to "look out'. Bursts of laughter helped to keep them from giving up with surprising moments of form stabilizing to some satisfactory golf. The card checkers would be forgiven for thinking that in each case two different people must have played the round.
A big thank you to the ladies in the kitchen who, after a hot round of golf, slave over the hot toasted sandwich maker. (Source – Marion Johnston)
Ladies – Wednesday 13th March 2019
Despite chants of "wet before seven dry by eleven" and "the forecast was for rain clearing" the umbrellas went up and never came down. Soon the course was definitely squelchy with puddles forming, and the large areas of sunburnt grass turned slippery. Occasionally the drizzle would let up just to hose down again – ghostly manic laughter coming from the heavens.
Nobody was expecting great scores and they were right. My partner and I were the last to trail in absolutely 'drookit' and it would be fair to say that neither of us realised that she had the winning score for the day.
The competition was the first round of the LGU and the Captains Trophy, and the Haggle ball winners were: Sara Porritt (71), Roseanne Parkes, Merle Munro and Lynne Bacon (73), Anne Hawkins, Jenny Tibby, Sarah Leilua, Jill Burton, Harriet Byelich and Elaine Couper. (Source – Marion Johnston)
Ladies – Wednesday 6th March 2019
Forty-five members turned out for the first day of the season and a nine hole competition to start the year very sociably on a pleasantly overcast day. Six teams of four set off from the first tee and the same from the ninth, crossing over to play the final holes on the other half of the course. Each team added their best three stablefords for each hole and the winners of those starting on the ninth hole with an outstanding 71 stablefords were Merle Munro (a new member), Harriet Byelich, Evelyn Heale and Jill Burton. Runners-up on the back nine were Glenda Street, Annette Tylee, Anne Hodges and Glenys Wheeler with a not too shabby total of 69. Of the first hole starters the winners were Anne Hawkins, Barbara Taylor and Carol Plowman with a total of 65 stablefords followed by the team of Christina Jilesen, Sue Rennie, Sarah Leilua, and Robyn Croy on 63. (Source – Marion Johnston)
Mixed – Sunday 27th January 2019
The 2019 Taumarunui New World Heaps Golf Classic saw 116 players assemble from 15 clubs around the North Island to compete in perfect conditions and produce some SIZZLING results. Thirty nine stablefords or better were needed for even a sniff at the $6,500 prize table. Local Erik Lei, playing off a 16 handicap returned a blistering nett 59 to take the best nett. Turangi's Chris Turner, on a nine handicap, played 69 – two under par, to win best gross. Two locals took out the top mens and womens stableford; Carol Plowman with 45 and Greg Simpson 44. Forty nine players out of the 116 had 39 points or better. Other good scores included Lance Tibby (Taumarunui) 43, Christine Edkins (Taumarunui) 43, Christina Jilesen (Taumarunui) 42, Paul Dowie (Taumarunui) 42, Neville Keys (Waiuku) 42, Matt Short (Omokoroa) 42, Duane Dixon (Waimarino) 42, Robert Edmonds (Waimarino) 42.
Erik Lei – best nett player of the tournament had the trophy presented by Sue Jordan.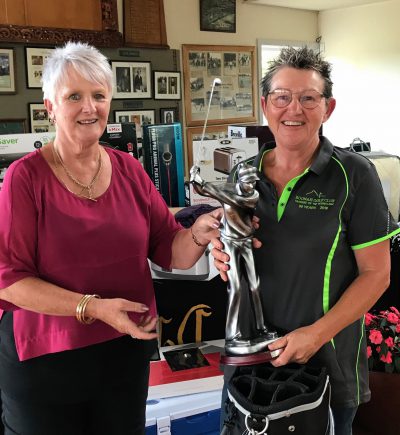 Carol Plowman (Taumarunui) won best Ladies Stableford with 45, presented by Sue Jordan.
Heaps committee member Sue Jordan presents Chris Turner (Turangi) with Best Gross Cup for his 69.
A portion of the Heaps prize table.
Local Greg Simpson took out the Mens Stableford prize with 44.
Some of the early finishers relax on the deck.