Tarrangower is 100 years old!
A limited number of souvenir books, commemorative golf towels, shirts, pens and pitch repairer/markers are available while stock lasts. Contact Secretary Julie for details.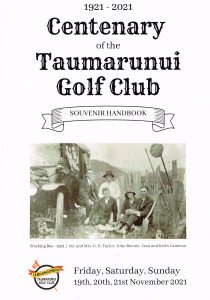 Sonia de Thierry was delighted to join the celebrations and cut the Centennial Cake.
Junior Tournament
A very special 9 Hole Tournament was held on Sunday 28th April for junior golfers who have been learning the game within the Junior Golf Academy introduced at the beginning of Term One.
Teams of four competing for school honours were submitted by Ngakonui Valley School, National Park School, Turaki School, Taumarunui High School and two teams from Owhango School.
Entry was free, as was the food and drinks provided by the Taumarunui Golf Club afterwards.
Thanks go to Paper Plus, Bowyer Motors and Terry Kay for prizes as well as parents and club members who turned out to help.
Congratulations to all the participants. Main results are:
1st National Park School – 245 Gross
2nd Turaki School – 258 Gross
3rd Owhango 1 – 262 Gross
Organiser Pete Jacobson hopes to run another tournament next school holidays weather permitting.
Junior Golf Academy
Thanks to the enthusiasm of Roy Frampton and volunteer club members, the new Junior Golf Academy for local primary school students got underway recently. Students from Owhango, Ngakonui Valley, Turaki, Manunui and National Park schools have come on board in the first school term. This is an exciting opportunity for the club to grow the game of golf amongst primary school students in Taumarunui.