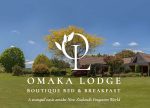 Description
Just a short drive down the Forgotten World Highway and 11km from the Taumarunui Golf Club lies a tranquil oasis you're sure to remember; a gorgeous boutique bed and breakfast on the crest of a hill with magnificent views that stretch over the majestic hills and valleys of the surrounding farmland.
Omaka Lodge is as much a destination for its beautiful country gardens as it is for its promise of tranquility. Situated amidst working farmland, the Lodge and its grounds are surrounded by the sights and sounds of everyday country life, where sheep and cattle dot the rolling green pastures that echo to the melodious sound of never-ending birdsong.
After your day enjoying Taumarunui's marvelous Tarrangower course, Omaka Lodge welcomes you home. The beauty, warmth and peacefulness will provide rest...satisfying and restoring your soul.
This is Omaka Lodge, a tranquil oasis amidst New Zealand's Forgotten World.